(This article was originally published at https://retailtechinnovationhub.com/home/2023/10/16/paradies-lagardere-taps-hologram-tech-for-virtual-associate-at-charlotte-douglas-international-airport-store)
Paradies Lagardère has deployed ARHT's Capsule Hologram technology at The Goods Express@CLT store, situated at Charlotte Douglas International Airport, to provide shoppers with a virtual interactive associate.
The store also features Amazon's Just Walk Out technology.
In a LinkedIn post, Paradies Lagardère said: "Get ready for an interactive shopping experience like never before, where holographic displays meet seamless shopping. Introducing ARHT's cutting-edge Capsule Hologram technology at The Goods Express@CLT store, featuring Amazon's Just Walk Out technology."
"We are thrilled to be partnering with ARHT, Amazon, and CLT to take travel retail to a whole new dimension. Make sure to check it out post-security in the Main Terminal."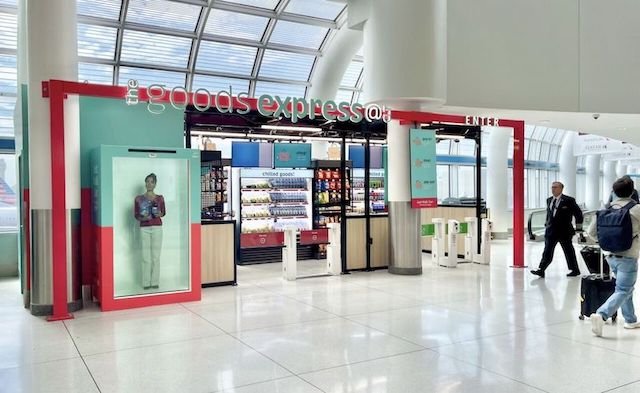 The Goods@DCA
Paradies Lagardère recently opened its latest retail concept, The Goods@DCA, in Concourse D of Reagan National Airport.
"We are extremely excited to deliver this revolutionary concept to our great partners at Metropolitan Washington Airports Authority and the travellers in Reagan National Airport," said Gregg Paradies, President and CEO at Paradies Lagardère.
"Our well-balanced blend of intriguing innovation, exciting local representation, and recognised customer service truly embraces our proven 'High Tech, High Touch' approach to delivering an award winning retail experience."
Beyond national and local themed gifts, apparel, licensed sports products, and a wellness shop, The Goods@DCA includes:
Lift and learn technology
This feature, powered by Perch, allows shoppers to engage with books in the MahoganyBooks area.
When a customer picks up a book, information such as the topic, or the author automatically appears on a digital screen.
Clockwork automated robot manicures
Debuting in Paradies Lagardère operated retail stores, Clockwork's technology offers AI powered, fully autonomous robot manicures in just ten minutes.
Amazon Just Walk Out technology
Customers can enter a specific area using a credit card at the gate. The technology detects what shoppers take from or return to the shelves and charges their card for only the items taken after the customer exits the store.
Amazon One
Amazon One means that customers can use the palm of their hand to make purchases.
The Goods To Go
This new store will also include The Goods To Go, a 24/7 automated vending programme offering snacks, beverages, and fresh to go items for travellers, airport personnel, and airline staff.